Companies cater to different audiences, which means that they have different approaches to attracting customers and generating sales. According to Samaiyah Islam of Business 2 Community, this diversity stems from the simple fact that consumer demand varies from one industry to another: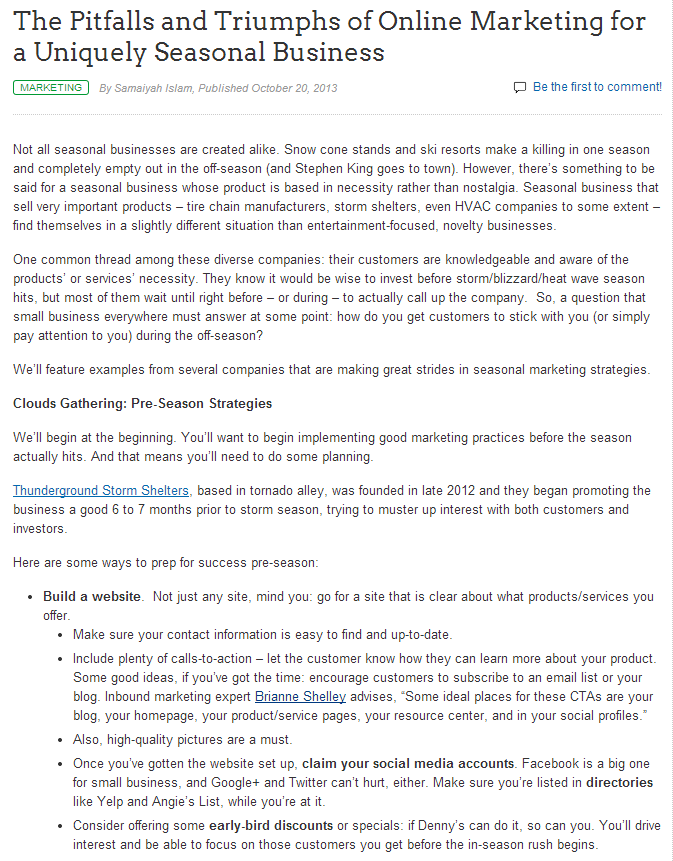 Snow cone stands and ski resorts make a killing in one season and completely empty out in the off-season (and Stephen King goes to town). However, there's something to be said for a seasonal business whose product is based in necessity rather than nostalgia. Seasonal business that sell very important products – tire chain manufacturers, storm shelters, even HVAC companies to some extent – find themselves in a slightly different situation than entertainment-focused, novelty businesses.
One thing that's certain is that every company needs to carry out effective marketing to stay in business for the long term – even if things are okay right now; after all, a business won't generate sales if people don't know it even exists. Marketing strategies have to be tailored to suit a particular industry, which often entails working with the relevant marketing experts. Businesses in Folsom and surrounding areas should consider working with Sacramento online marketing companies—such as Champion Online Marketing, for instance—that have considerable experience serving many Sacramento's business sectors.
Islam notes that while online marketing is very useful, simply creating a website isn't enough. Companies nowadays are expected to do more for their customers—such as interact with them through social networking sites and provide accurate, industry-relevant news articles—even if they only cater to a small target audience. Consequently, this greater emphasis on customer-company interactions is just one of the many trends experts predict will become the norm in 2014.
Whether it's a snow cone stand or an HVAC repair center, consumer demand drives most companies to engage in online marketing. In response, trusted Sacramento online marketing firms like Champion offer search engine optimization, pay-per-click advertising, social media and web design services that are considered the backbone of internet marketing. As huge as Internet use already is, it is expected to grow a lot more in the coming few years. Online marketing is the best approach companies should take to attract customers and generate sales.
(From The Pitfalls and Triumphs of Online Marketing for a Uniquely Seasonal Business, Business 2 Community, October 20, 2013)