There's no question that Google's successive algorithm updates have changed the way online marketing, and by extension, content marketing, work. According to Econsultancy, an online community for online marketers, among the changes these updates have introduced over the years is the greater focus on 'holistic content'. Given Hummingbird's (Google's new algorithm) ability to better analyze search queries and the semantics in content. As the article says:
For example, for a search term such as "iPhone 6 plus" proof terms such as "Apple" or "mobile" are words that are strongly related to the primary keyword and highly likely to appear at the same time.

Relevant terms such as "bending" or "screen size" are a bit more removed and part of a sub-ordinate topic cluster, but still important.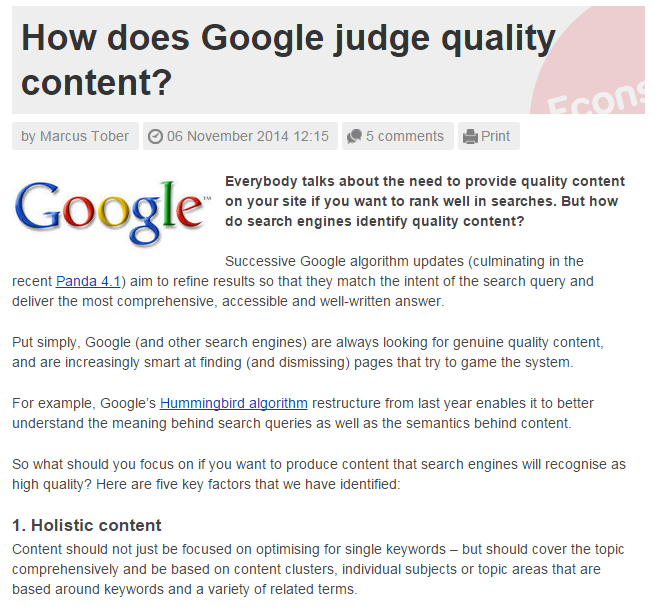 The best Sacramento online marketing companies, like Champion Online Marketing, know what this all means. Google puts great value on holistic content that is highly relevant to the keyword. With Hummingbird in play, website content for 2014 onwards should now be written in a 'natural' language (the language web users use when searching in Google) that target certain keyword 'themes', or groups of keywords related to each other, rather than just specific keywords.
To cope with the ever changing landscape of online marketing, businesses will do well to work with experienced professionals, instead of attempting to learn on their own as they go along. This is mainly because knowledgeable and ethical online marketing companies have already moved past the 'spray-and-pray' mindset.
Writing clear, concise, and relevant content for the web is also not as easy as it may seem, because it requires conveying information to a target market while optimizing the values that online technology offers. This is especially important for businesses that wish to improve customer relations by providing user guides, learning materials, job aids, and the like.
Perhaps more importantly, working with reputable Sacramento internet marketing experts is vital because these professionals can be counted on to use 'white hat' marketing tactics. For those unaware of the history of online marketing, most of Google's algorithm updates were made as a response to shady or 'black ha' marketing tactics like content spamming and link farming, which did not do much in enhancing users' internet experience. It is a constant cat and mouse game – Google updates their algorithm to ensure people get the best search results – unethical companies try to find ways to cheat the system with 'black hat' techniques – Google updates the algorithm to counteract those techniques – and son on and so forth.
The Hummingbird, Panda and other algorithm updates were conceived to level the playing field and to encourage websites to rely on quality content, meta information, and site architecture to attract web users.
More Google updates can be expected in the future, further revolutionizing online marketing. For businesses to effectively cope with these changes, they have to work with seasoned marketing pros who are always prepared to make the necessary adjustments for continued success.
(Source: How does Google judge quality content?, EConsultancy, November 06, 2014)