Ask any experienced Sacramento online marketing company and they will tell you that content marketing and SEO go hand-in-hand for two simple reasons: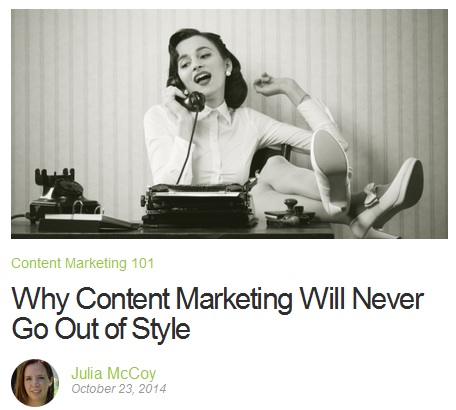 First of all, adding fresh content to your website is a great way to generate traffic and to help improve your search result ranking.
Second, when you syndicate your unique content it increases the number of backlinks to your website. While "Content is King", backlinks are still an invaluable factor that search engines use to determine where to rank a website.
As if the SEO benefits of content marketing weren't enough, Julia McCoy of The Search Engine Journal sums up the business benefits of content marketing perfectly in the following excerpt:
… Content has been the backbone of the Internet since day one.

If you think about it, you audience is already primed and waiting for killer content. According to the Content Marketing Institute, 80 percent of users base business decisions off of information they obtain through blogs and articles as opposed to salesy advertising. 70 percent say content marketing makes them feel closer to a company, and 60 percent say a company using online content marketing helps them make better decisions…
As you can clearly see, there's no reason why you shouldn't be engaged in content marketing. If you're ready to start your content marketing campaign, here are two quick tips to help you write better content that will be of interest to your market:
Always Research
As you surf the Internet, be on the lookout for possible source articles, news and developments in your industry for your next piece of content. At the same time, keep an open mind when choosing topics for your content. You'd be surprised at how interconnected everything in the world really is. For example, an article about painting may be connected to medical safety by alerting people to the dangers of paint fumes to even the occasional painter or hand pain issues for long time painters.
Always Proofread
Go over your content several time before posting. This should help you spot odd sentences and grammatical errors. Very few things can undermine the credibility of a writer than avoidable mistakes.
Unfortunately, many business owners do not have the time to regularly create high-quality content. If this applies to you, you may want to consider working together with an expert at internet marketing in Sacramento such as Champion Online Marketing. Experienced professionals understand what makes fantastic content and how to pair it up with SEO to help you achieve the maximum benefits of doing both.
(Source: Why Content Marketing Will Never Go Out of Style; The Search Engine Journal; October 23, 2013)