A successful Sacramento SEO campaign will help you acquire new customers. Because keeping the business of existing customers is much cheaper than trying to attract new ones, you should do everything you can to keep them coming back for your products and services. One thing you could do to achieve this is to launch a mobile text marketing campaign. An article posted on Entrepreneur.com shares essential tips to help keep your customers interested:
"Offer something of immediate value.

No one wants to receive texts from a company unless the messages offer something of immediate value. Because text messaging is an instantaneous medium, you should include real-time offers. Whether you're providing information about a sale or a new product, the message should describe the benefits of acting now.

Make consumers feel special.

Don't clutter consumers' text message inboxes with offers and news they could easily get from your website or your brick-and-mortar locations. Instead, make recipients of your texts feel they're special and have qualified for an exclusive promotion. Otherwise, they will most likely opt out of receiving any future texts from you."
Make sure let your customers know that they will be receiving occasional text messages from your company when they give you their number. Once they realize the benefits of opting in, this will result in increased brand loyalty. They may even share their experience through their social media accounts, which will definitely do wonders for your reputation.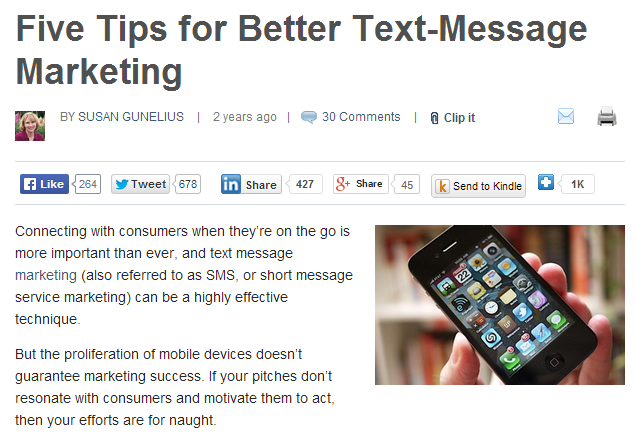 This tactic can be very effective for restaurants and retails establishments that like to run Groupon, Living Social or other "loss-leader" specials. These specials can get a lot of people on your door but you in order to make them pay off you really should have a way to capture, nurture and follow up with those patrons.
Trusted companies who offer SEO in Sacramento may provide mobile text marketing or can refer you to reputable companies that do. They also provide other services in conjunction with their search engine optimization service. These include web design, social media marketing, and pay-per-click marketing and online reputation management. Champion Online Marketing or other reputable local companies will help you create a tailor-made marketing campaign that will contribute towards bringing in more customers and retaining their business.
(Article Information and Image from Five Tips for Better Text-Message Marketing, Entrepreneur)