Gabe Donnini's July 2013 articles for Search Engine Journal reports on new data from Chitika Insights on the importance of search engine result positioning, following the recent Google algorithm updates. The study involved millions of ads in which a user was led to target sites through a Google search. The results were similar to those of a similar study published three years ago, in that the first item on search engine results pages (SERPs) generated the most website traffic than any other item on the list.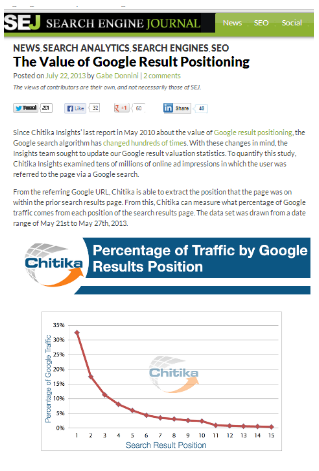 The study further proves the value of high rankings on SERPs. This means that any company operating in Sacramento, where business is alive and kicking, can expect better site traffic if they have an effective SEO strategy in place. This requires the services of experienced Sacramento search engine optimization specialists like Champion Online Marketing.
Although the ultimate goal is to achieve first page ranking, the study shows that obtaining the no. 2 spot offers some benefits as well. In any case, business owners must remember that SEO does take time before it can generate visible results. Therefore, it is advisable to work with a reputable SEO firm for sustained results.
Achieving first page visibility is certainly no small feat and can be considered a milestone for any businesses. After all, first page placement on SERPs typically contributes to 92 percent of all traffic from every average search. Donnini also states that such a trend is not likely to change in the near future.
Businesses whose websites languish somewhere at the bottom of SERPs should waste no time and rethink their SEO strategies to appear more visible to customers. A reputable SEO company in Sacramento – like Champion Online Marketing, for instance – can help in this regard. These experts can take care of such tasks as content management and web design to make clients' websites appear more visible and relevant to target users.
Every business, whether big or small, needs to establish a strong online presence if it hopes to catch the attention of its target audience. An effective SEO strategy can enable your business to rise through SERPs, generate more site traffic, and enjoy better conversation rates.