Search engine optimization is a necessary component of any online marketing campaign, although it is not as easy to do as it seems. An article on the Search Engine Land website published last October 10, 2014 shows how a major company's SEO approach may not exactly work for businesses hoping to emulate the same strategies. The author of the report notes that while the major companys' nonstandard method of SEO works perfectly due to a number of reasons, they are ultimately counterintuitive to other companies: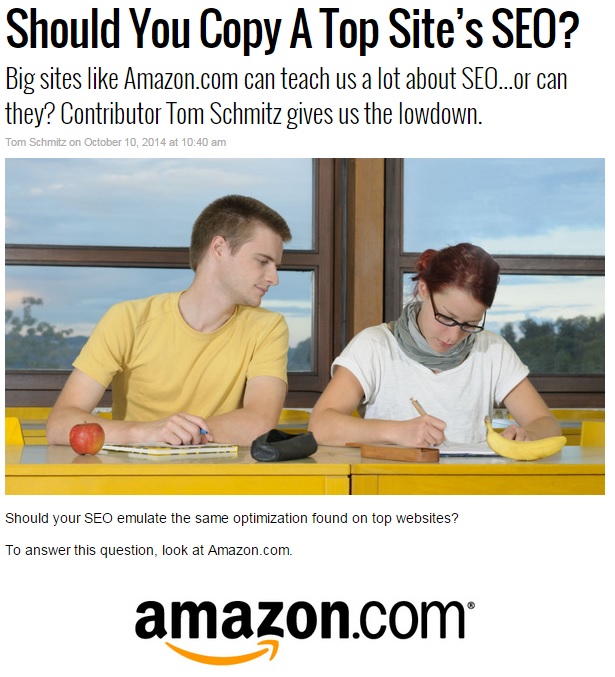 … just because a website performs well in search does not make it a good model for another website's SEO. It can lead to poor decisions that negatively affect rankings and visibility.

I do not want to completely discourage you from looking to Amazon.com or other sites for ideas and inspiration. Just make sure that when you do, you have a strong foundation of knowledge and can critically assess what you find.
SEO is not a cookie cutter, one size fits all marketing solution that magically improves a business' online presence in an instant. It is a constant and highly customizable process that involves carefully making sure that all the online marketing efforts are aligned. We often see businesses that are very active online but their marketing efforts are scattered and not aligned or focused properly – thus diluting their message and results. When properly aligned, all pieces of an SEO campaign complement and build on each other to maximize the results. Businesses intent on succeeding in SEO where there is substantial competition online, generally need the help of a competent SEO company in Folsom, such as Champion Online Marketing.
To truly get ahead with SEO, a business should not just look at what their competitors are doing; a business should also consider what it needs the most. Business owners that have limited experience in SEO are usually not even be fully aware of their marketing needs on the Web and will require some professional guidance. In fact, we sometimes see businesses with the best intentions actually being counterproductive and causing harm to their online presence. Most local businesses would be helped by hiring firms that offer online marketing services and SEO in Folsom, as these agencies have the skills and experience required. SEO companies closely coordinate with their clients to come up with suitable marketing solutions instead of simply copying what the industry leaders are doing.
(Source: Should You Copy A Top Site's SEO?, searchengineland.com, Oct. 10, 2014)