Kevin Knauss, guest blogger for the Sacramento Business Journal, reflects in a May 6, 2013 article on the limitations of social media for marketing small businesses. According to Knauss, social media marketing may not work for every company. He also stresses that there's more to using social media than just attracting followers and boosting sales.
Active social media participation may not guarantee more loyal customers for a Sacramento business. One, therefore, needs to adopt the right strategy to provide a more meaningful social media experience for target customers, and also boost search engine optimization (SEO) efforts aimed at enhancing site visibility and search engine ranking. A reputable company like Champion Online Marketing that offers effective Sacramento SEO services can help your website rank higher on Google by ensuring the right keyword usage on every Facebook post or YouTube video.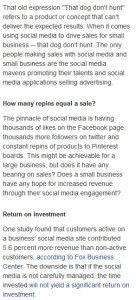 Knauss points out that only two groups truly make a killing through social media marketing: those who have already established themselves as online personalities, and providers of online applications who sell advertising slots. He also makes the point that while social media can indirectly boost revenue by way of building customer loyalty, a mismanaged Facebook or Twitter account won't yield a return on investment, thus making it a waste of time. Social media, as Knauss so succinctly puts it, is primarily for conversations, and not for selling.
While a slick social marketing campaign can garner lots of likes and followers, it will ultimately mean nothing if those followers are not even within the company's service area. Knauss thus considers it more helpful for small businesses to cultivate a more "homegrown" feel rather than a "manufactured" image when it comes to social media engagement. Such an approach allows the brand to have a more genuine reputation.
Small local businesses should also align their online marketing efforts to what they can actually afford and what will yield the best return on investment. In this regard, they can consult a trusted online marketer like Champion Online Marketing to see what sort of strategy will be effective for engaging the local market. This way, one can steer clear of irrelevant activities that do nothing to boost a company's profitability.
In the end, while the prospect of establishing a solid online presence through social media sounds quite appealing, it is certainly advisable to step back for a moment and consider what your business truly needs. For instance, you can focus on SEO services in Sacramento, the 35th largest city in the U.S., that allow you to build a more cohesive, content-rich website, and thereby boost your visibility and relevance to your target consumers. When the time is right, you can then pursue a more driven social media campaign.