The importance of Search Engine Optimization (SEO) cannot be ignored these days, especially if one aims to succeed in any business. Timothy Carter's article for socialmediatoday.com states that good SEO strategies can go a long way in helping small, home-based business make their presence felt on the Web. The widespread use of the Internet and its applications has indeed changed the face of business everywhere, and has given small businesses a better chance of competing against more established rivals.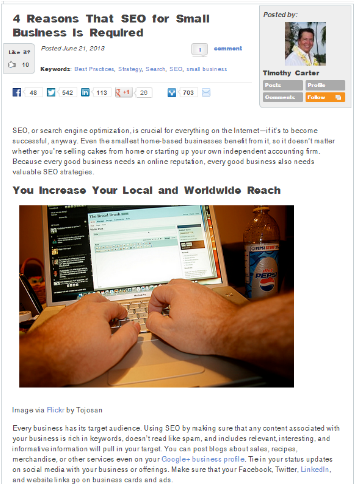 However, many small businesses, including those in Sacramento, California, remain competitive by keeping their capital investment small while they increase their profit. This could mean limited resources, which usually do not allow for in-house Internet marketing operations. This is where an experienced Sacramento internet marketing company can lend support.
Carter further adds that SEO enables a business to reach its target market, not only locally but globally. Through a successful SEO campaign, a website can gain renown for being an authoritative figure in its industry. As the site's prestige grows, so too does the number of people who visit the site.
To achieve a solid online reputation, it is important to infuse a website with informative and relevant content. Consistently high-quality content can snowball into more visitors, which can then propel your website toward the top of search engine results pages. Studies have also shown that websites which appear on the first page of Google are perceived to be more reputable than those with lower rankings.
Quality content is just one part of an effective SEO strategy. A seasoned internet marketing company in Sacramento, such as Champion Online Marketing, may employ a bunch of other techniques that can further boost a website's search engine ranking. For instance, this may involve online marketing strategies such as social media marketing.
It is known that around 83% of Internet users have made an actual transaction online. By drawing more visitors to your business website, you increase the chances of generating more sales. With the right online marketing strategies and the relatively low cost of Internet marketing, small businesses now have effective means of making their presence felt.