The business marketplace is crowded. Depending on where in Sacramento your business is located, you could have a few or up to dozens of businesses near you that offer basically the same products and services you do that are targeting the same local customers. What can you do to make them choose you over your competitors? One solutions to stand out with your internet marketing in Sacramento is to present your message in a memorable and interesting way that grabs people's attention immediately. Put simply, you need to be a good storyteller.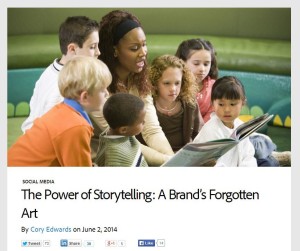 Cory Edwards, head of Adobe's Social Business Center of Excellence, relates how a good story can help boost your brand in his recent post for Adobe's Digital Marketing Blog:
"Why is it so important that brands learn to tell a good story? Well for one thing, consumers place more value on what their fellow consumers think than what brands have to say. That's nothing new; we've known for years that customers trust one another more than company spokespersons, even the CEO. But here's why it matters. When a brand can relate to its target audience on a higher level with something real—whether it's a heartwarming tale, a unique experience, or simply a good laugh—customers listen. A great story evokes emotion, persuades, even compels. More importantly, people who have felt something while being lost in a good story want to share. If social media is the vehicle, your story can be carried away in an instant. What you have to say matters. Make it resonate and your message will captivate the crowd."
More than anything else, a story can be a really effective way to demonstrate to your customers the value of your products and/or services. Many brands use stories in their online marketing, but too often these are relegated and limited to their 'About Us' page. Good storytelling has a far greater marketing potential than that.
True brand engagement takes more than just raising awareness for your brand—it needs to involve the active participation of your customers. What better way to compel them to interact with you than to give them a good story?
If you need creating compelling content and stories that will appeal to your target audience, consider working with a Sacramento online marketing company with a penchant for quality storytelling and marketing might just be the solution you're looking for.
(Source: The Power of Storytelling: A Brand's Forgotten Art, Digital Marketing Blog by Adobe, June 2, 2014)