Americans love their pizza. The latest statistics show that around 1 in 8 Americans eat pizza driving and astonishing $37 Billion in annual sales.
Pizza Hut is a pioneer in the industry as the first pizza chain in the U.S. From its humble beginnings in Wichita, KS, the chain expanded to become the top gun in dollar and unit sales. Amid stiff competition, more than 7,000 Pizza Hut locations in the U.S. serve pizza, pasta, and several items on their expanded menus.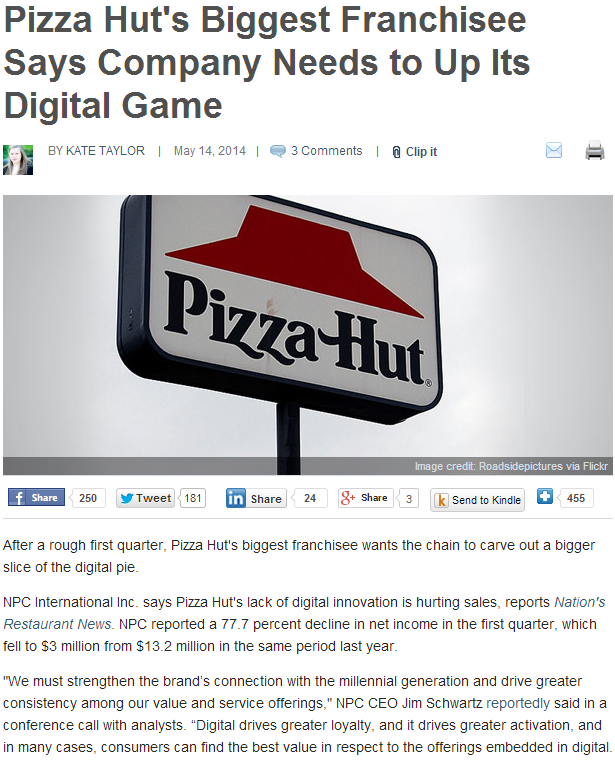 However, a series of declines in sales are putting the historic pizza chain at risk of losing its grip on the market. Entrepreneur's Kate Taylor reports:
"NPC International Inc. says Pizza Hut's lack of digital innovation is hurting sales, reports Nation's Restaurant News. NPC reported a 77.7 percent decline in net income in the first quarter, which fell to $3 million from $13.2 million in the same period last year."
That's right–Pizza Hut is not keeping up with the times, while its rival, Domino's Pizza, has taken the complete opposite route.
"As more and more customers order online – Domino's generates 40 percent of U.S. sales through digital channels – the need to innovate digitally becomes more important than ever before."
Practically everyone goes online today, with the number of online shoppers expected to grow from 137 million in 2010 to 175 million by 2016. The Internet is presenting opportunities for businesses everywhere, and anyone who falls behind in digital marketing, like Pizza Hut, can expect to suffer the consequences. Tapping the services of experienced Sacramento online marketing companies, like Champion Online Marketing, is one sure way of taking advantage of the huge opportunities the Internet provides to drive sales and to increase profitability.
Pizza Hut has been known to be an innovator (think Stuffed Crust pizza); and the first online purchase was, in fact, for a Pizza Hut pie. At the moment, the brand maintains apps, social media pages, and even an online delivery service (the first in the industry), but investors believe it's not doing enough.
The world of Internet marketing is fast growing and changing, with various tools and solutions available to capture the market's attention. SEO, social media marketing, and local marketing are only a few of the tools that Sacramento Internet marketing services utilize to bring businesses closer to their markets.
As society becomes more information-driven, Internet marketing is getting even more complex and competitive. Even industry pioneers like Pizza Hut will not be spared of the disaster that could happen if they get left behind in the dynamic world of online marketing.
(Source: Pizza Hut's Biggest Franchisee Says Company Needs to Up Its Digital Game, Entrepreneur, May 14, 2014)