Companies have seen search engine optimization (SEO) as an effective tool for bringing them closer to their preferred clientele. Relying significantly on search engines like Google, Bing, and Yahoo!, Folsom SEO companies like the Champion Online Marketing have always been careful and diligent observers of every change in how these search engines work.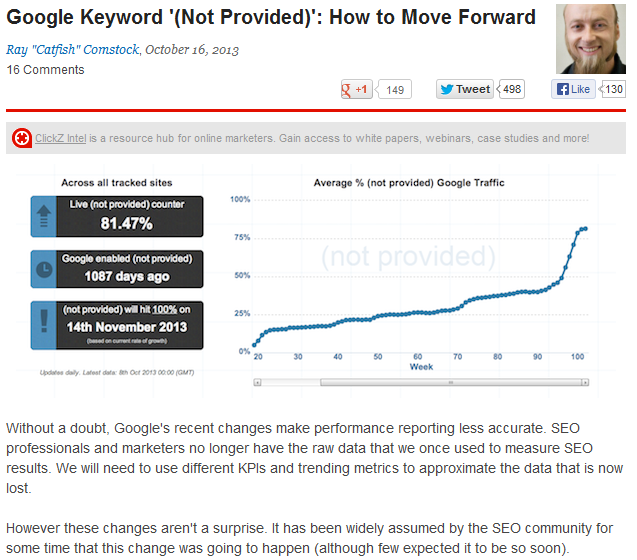 Algorithms used by search engines are always changed and updated to improve how they index and provide users the results that they are looking for. In fact, Google alone has implemented several changes like the Penguin Update, AdWords Ad Rank Algorithm changes, and the taking down of Google PageRank Data in this year alone. While all these changes greatly impact how the industry works, another important change Google has put up is taking down the supply of Keyword Data (an incident described as the "(not provided)" issue) to grant their users a more secure way of searching.
Keyword data is the information that SEO professionals use to track which words users search the most. By determining these keywords, SEO companies can then create content that would contain these and increase the visitors of company websites. With the data now taken down, this creates a bit of a hiccup for finding keywords that are effectively bringing traffic to your website. However, Ray "Catfish" Comstock, writer for SearchEngineWatch.com, explains that this does not mean SEO would soon take a dive:
As Google's Distinguished Engineer Matt Cutts has said: "Succeeding in SEO will be the same as it's always been if you're doing it right – give the users a great experience."
By developing user-centered content that is valuable and informative, and publishing to the web using best practices, you will see positive business results – assuming that you're coupling that with other SEO best practices.
Furthermore, Comstock says that the main hindrance that this change causes to SEO providers is mostly towards measuring and reporting its effectiveness, since traffic from Google "can no longer be tracked at a keyword level". On the other hand, there are other ways to find out how your website is performing such as checking rankings on search engines, traffic received, and more.
Google will continue changing, and the way people search and receive results will keep evolving as well. As search engines implement more and more updates, local companies should then practice quality SEO in Folsom and Sacramento to ensure that their websites stay at the top and continue generating traffic.
(Article Image and Excerpt from Google Keyword '(Not Provided)': How to Move Forward, Search Engine Watch, Published October 16, 2013)