In September, Google revealed the launch of its new algorithm dubbed Hummingbird, which features more specific search results, Google Now cards. The platform is more efficient than the previous Panda and Penguin algorithms ever were. As much as this news has rallied cheers from millions of search engine users, it has also piqued the attention and concern of the internet marketing industry. What does this mean for businesses that use Sacramento SEO services?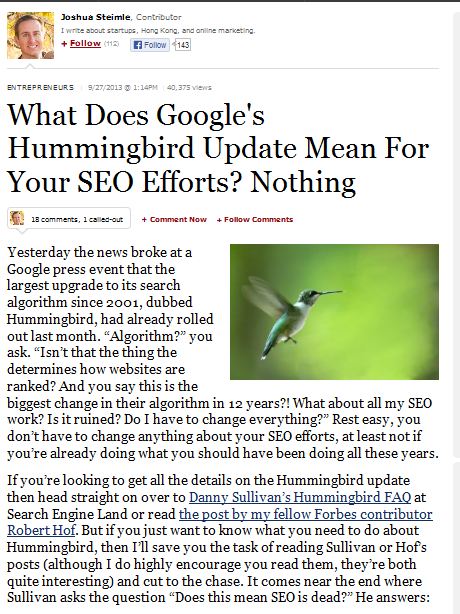 Reassurance
A news article posted on Forbes.com reassures SEO companies and clients alike, quoting directly from the Editor-in-Chief of a prominent SEO blog:
No, SEO is not yet again dead. In fact, Google's saying there's nothing new or different SEOs or publishers need to worry about. Guidance remains the same, it says: have original, high-quality content. Signals that have been important in the past remain important; Hummingbird just allows Google to process them in new and hopefully better ways.
Long Live the King
What this means is that SEO services by reputable companies such as Champion Online Marketing should still be as effective, if not significantly more, than it was in the past two Google algorithms. This does not change the fact that quality content is king. With excellent content efficiently optimized with accurate keywords, your site can still rule over its competitors.
Better Aim
In fact, with Google's aim to allow more precise search results for every user, your site can reach its target customer even more effectively, thus ensuring that your SEO efforts deliver concrete results. If all pans out as the industry giant intends, gone will be the days of people getting annoyed over having irrelevant sites pop up in the first few pages of their search result.
Reward for Diligence
With the new Hummingbird program in place, those who have already been practicing white hat SEO by producing quality content rich in links from reliable websites will be rewarded with a continued high ranking in Google searches. In contrast, the search engine will be able to track down more effectively the businesses that aim to cheat the system using black hat techniques.
Not only will the new algorithm allow for a better user experience, but it also promotes efficient SEO services in Sacramento. With the steadily increasing amount of online users, this makes online marketing well worth the time and effort.
(Article Excerpt and Image from What Does Google's Hummingbird Update Mean For Your SEO Efforts? Nothing, Forbes, Published September 27,2013)