Search Engine Optimization (SEO) has become a big deal today. With a huge majority of buyers searching online before making a purchase, SEO is a necessity for getting visible on the internet and in front of your potential customers today. There are still a number of businesses, however, that are unsure about the benefits of SEO and remain on the fence about its use.
Entrepreneur contributor Chad Hill agrees:
There's a debate taking place in the marketing world about the nature of search engine optimization (SEO). Is it really a distinct marketing channel? More importantly, has it become such a business necessity that it's unnecessary to measure its return on investment?

While the first question understandably interests marketers, it's not of much interest to businesses, especially small businesses, looking to allocate precious marketing dollars. The return on SEO is where the rubber hits the road.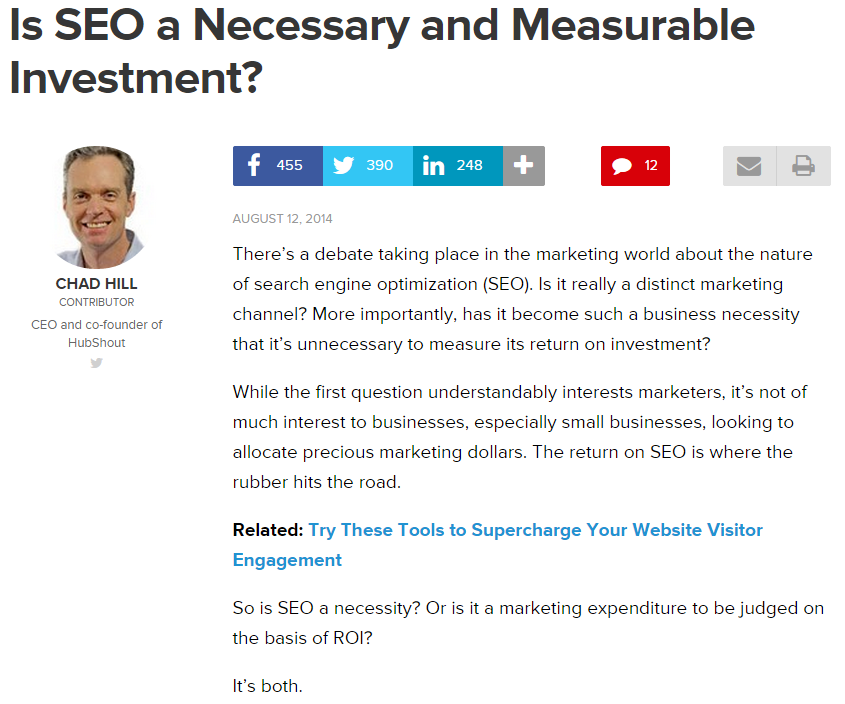 As Hill and marketing experts point out, however, there are a number of reasons why the services of a local SEO company in Folsom like Champion Online Marketing matter greatly nowadays.
First and most importantly, SEO brings traffic. Online presence is crucial to businesses survival today. Being ranked on the first page of a search engine query increases a website's traffic significantly. This means hundreds or thousands of more potential customers each month.
Conversely, you can imagine how many potential customers you are missing by not ranking on the first page when people search for terms that describe the product or service that you offer. If your potential customers cannot find you online, you do not exist to them. They will only see your competitors. With tried-and-tested SEO methods like keeping content fresh and engaging, any company can increase website traffic; and when this happens, more site visitors will mean greater potential profit.
Next, SEO brings forth increased brand awareness. With sound Folsom SEO practices, a brand can gain a much wider audience online. About 94 percent of people who use Google never click beyond the first page, and about 56 percent click the first link they see. People consider the first website link they see as the most relevant result, and therefore click on it.
Once on your website, you should have numerous brand identifiers like attractively designed logos and engaging content. This will make sure that your brand stays in the minds and consciousness of viewers.
Lastly, SEO improves credibility. People use Google 93% of the time search online. As previously said, the results on the first page are often considered the most trustworthy and credible, and good SEO practices can help put a business there.
Given how the Internet has changed the way people look for solutions, products and services, putting SEO on hold eventually may lead to a business' gradual downfall. Contact the highly respected Folsom SEO experts – Champion Online Marketing today for a free 15 minute consultation.
(Source: Is SEO a Necessary and Measurable Investment?, Entrepreneur.com, August 12, 2014)