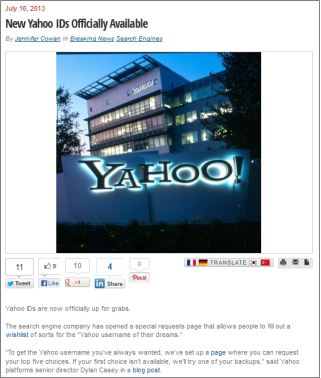 Most people—but especially Sacramento SEO experts—know the importance of being memorable when it comes to drumming up awareness for your brand, products, and services. Yahoo! knows this fact all too well and, as an introduction to its ongoing massive company rebranding. The Sunnyvale-based tech giant is changing its logo "for the first time since shortly after the Internet company's founding 18 years ago," reports AP.

What many people who switched to Gmail do not know is that as early as July 2013, Yahoo! has undertaken a huge step towards getting new users, recovering lost ones, and even helping them to have more meaningful and memorable e-mail addresses.
Although Yahoo! has much more to offer to Internet users on its homepage, its busiest portal is Yahoo! Mail, where around 298 million individual users log in to check e-mails monthly as of 2012. Yahoo! began offering e-mail accounts to Internet users in October 1997, and since then, many people have claimed their own e-mail IDs. To the company, this is actually presents a problem because new users have very limited choices when it comes to having their desired user IDs.
An official blog post written by Jay Rossiter, Yahoo!'s senior vice-president of platforms, reads, "If you're like me, you want a Yahoo@ ID that's short, sweet, and memorable like albert@yahoo.com instead of albert9330399@yahoo.com. A Yahoo! ID is not only your email address, it also gives you access to content tailored to your interests – like sports scores for your favorite teams, whether in your hometown, and news that matters to you." This is why the company decided to make previously claimed user IDs whose owners have not logged in for more than a year as of July 15, 2013 to be available again.
The move is unquestionably good news for all the "Alberts" and individuals in the world who need to be remembered for exactly who they are. If your business is suffering from a similar name-recall problem, it is advisable to employ the services of companies that do SEO in Sacramento, such as Champion Online Marketing.
By beefing up your website with quality content and making its interface friendly to people who use a range of computing devices, your site—and ultimately your company—can plant a lasting memory on users. In addition, high-quality websites are awarded by search engines with higher rankings in search results, boosting your visibility further among people who are not aware of your business yet.
(Info from New Yahoo IDs officially available, Site Pro News, July 16, 2013)